JSER Data

Frequency: quarterly
ISSN: 1409-6099 (Print)
ISSN: 1857-663X (Online)
*** Call for papers for issue 3-4/2015 is open until May 30 *** Last issue is published 04.04.2015 ***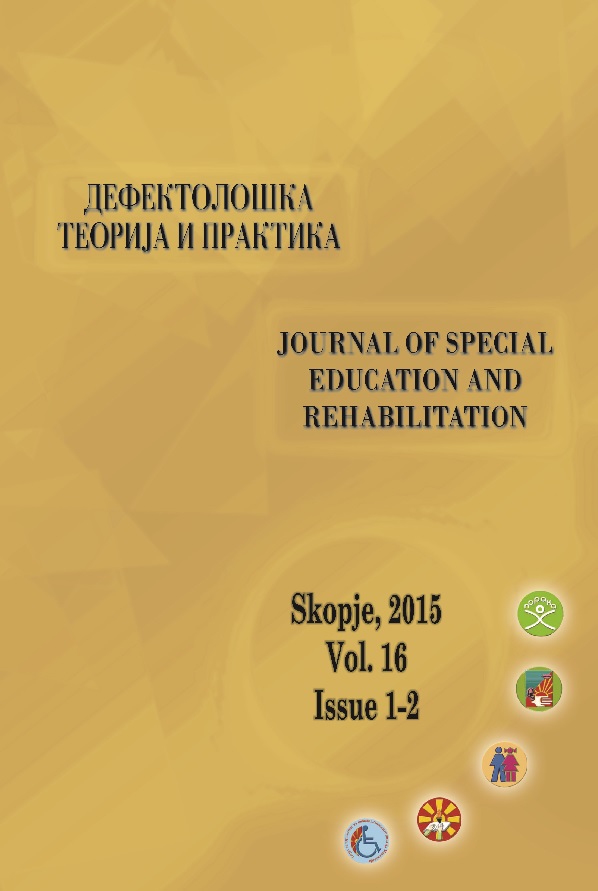 WELCOME
to the official web site of JSER
AIMS AND SCOPE
Journal of Special Education and Rehabilitation (JSER) (ISSN 1409-6099) is a multidisciplinary peer reviewed international journal edited by the Institute of Special Education and Rehabilitation of the Faculty of Philosophy in Skopje and Macedonian Association of Special Educators. The following articles will be considered for publication: original and review articles, short report, letters to the editor, clinical experiences, survey of cases, doctoral dissertations, master of arts, editorials, rapid communications and other contributions from all the fields of special education, medicine, psychology, pedagogy, social policy, and the related sciences. Special educators, medical doctors, psychologists, pedagogues, social workers and other employed in the public and private special schools, institutions, health departments and hospitals in Republic of Macedonia and all over the world have the right to publish. The aim of the journal is to share and disseminate knowledge between all disciplines that work in the field of special education and rehabilitation. All articles will be critically reviewed within 2 months, but longer delayes are sometimes unavoidable. All manuscripts must comply with Authors Instructions. There are around 20 articles published per year. JSER allows free access (Open Access) to its contents and permits authors to self-archive final accepted version of the articles on any OAI-compliant institutional / subject-based repository.
Institute of Special Education and Rehabilitation, Faculty of Philosophy
Blvd. Goce Delchev 9A, 1000 Skopje, Republic of Macedonia
Tel.:+389-2-3148-834
EDITORIAL OFFICE PREFACE

Dear readers,

Writing scientific papers is a way of communication in science. Scientific papers are published in scientific journals. One such scientific journal in thousands world's journals is our journal Special Education and Rehabilitation, which tends to follow the trends. In the small scientific environments such as the Republic of Macedonia there are many factors that hinder the workand reduce the actual quality ofthescientific journals. When the state invests only 0.3% of GDP in science, then you cannotexpect a serious scientific achievementof the Macedonian scientific journals. These small magazines always have a big problem inprovidinghigh-quality papers that would later be widely quoted and would provide a factor of influence of the scientific journal. The state requires high criteria of the teaching staff and publication of papers in journals with high impact factor, but it does not provideany access to the database Web of Science. Inevitably there is an impressionthat the welfare state and high science do not go together hand in hand. When you add the illogical moves of the publishers for reduction of the remuneration of the members of the publishing office and the moves for selection of the printing office that are not to the taste of the main editors, then you can conclude that in order to become a successful editor of a ultimate scientific journal in a small scientific environment as Macedonia is a mission impossible. The Ministry of Education and Science have to find additional resources and to increase the funding of scientific research projects and to invest more in international journals with domestic origin, so they could acquire a factor of influence in the near future.

Let us look briefly at this issue 1-2 2015. In the first rubricSpecial Education and professional problemsthis time is represented by domestic authors. My colleague Daniela Dimitrova-Radojichikjwrites aboutConceptsof colors in children with congenital blindnes,and the authorsRashikj-Canevska and Chichevska-Jovanova process some determinantsof the quality of life in patientssuffering from multiple sclerosis. In the rubric medical treatment there is a paper by the author Dobrinka Georgieva coming from Bulgaria. It examines the multidimensional outcome and long-termevaluation of non-avoidance therapy in stuttering. In the rubricPsychological-Pedagogical reviewthere aretwo papers by authors from the United States that cover the following topics: An evidence-based analysis of self-regulatedstrategydevelopment writing interventions forstudents with specific learning disabilitiesand the second Passing standardized assessments with fadingprompts. Authors fromCroatia in the rubricdevoted to practical work representtheguided reading program for prisoners. In the last rubric Experiences and NewsIndian authors introduce the topic Does fatherinvolvement influence the affect, language acquisition, social engagement and behaviour in young autistic children?

Inthe rubricNews and Informationreaders will find information on the eighth international conference Special Education and Rehabilitation todayheld in Belgrade, Serbia. Then,Ana Petkovska writes about the 3rd meetingonrare disease in South-EasternEuropeheld in November 2014 in MASASkopje. Finally,the Newsend with aproject report: Program for fullsocialization of children with special needs intotheir communities submitted by Jasmina Troshanska. Then, there is anabstract of a master's thesis defended by the colleague Sashka Trajkovski entitled Abilityof self-advocacy of people with intellectual disabilities.

Yours sincerely,
Editor-in-Chief
Prof. Dr. Vladimir Trajkovski

Beneficiary's Bank:
National Bank of the Republic
of Macedonia, Skopje, Republic of Macedonia.
Giro account: 160010422778818
Tax number: 4080009100138
Publisher: Institute of Special Education and Rehabilitation, Skopje, Republic of Macedonia.
Electronic submission
Manuscripts should be submitted electronically using the Article submission form which will be accessible after registration and logging on with your JSER username and password. Registrations are open and activated automatically.
Call for Papers
Respected readers,
Institute of Special Education and Rehabilitation,
Faculty of Philosophy
Blvd. Goce Delchev 9A
1000 Skopje, Republic of Macedonia
with subject for Journal of Special Education and Rehabilitation
or you can send them by e-mail: jser@fzf.ukim.edu.mk
The dead line for sending the manuscripts is 30.05.2015
Please send the manuscripts on time.
Manuscripts which will not come on time, or authors who will not follow the instructions will not be published.

With respect
JSER Editor-in-Chief
Journal metrics
SNIP

0.115

IPP

0.14

SJR

0.109

h5-index

4