JSER DATA
Frequency: quarterly
ISSN: 1409-6099 (Print)
*** Call for papers for issue 1-2/2014 is open until November 30 *** Last issue is published 30.09.2013 ***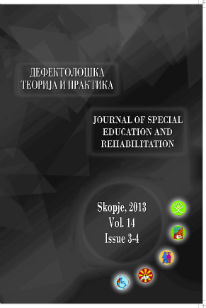 WELCOME
to the official web site of JSER
The Journal of Special Education and Rehabilitation (JSER) (ISSN 1409-6099) is a multidisciplinary peer reviewed international journal edited by the Institute of Special Education and Rehabilitation of the Faculty of Philosophy in Skopje and Macedonian Association of Special Educators. The following articles will be considered for publication: original and review articles, short report, letters to the editor, clinical experiences, survey of cases, doctoral dissertations, master of arts, editorials, rapid communications and other contributions from all the fields of special education, medicine, psychology, pedagogy, social policy, and the related sciences. Special educators, medical doctors, psychologists, pedagogues, social workers and other employed in the public and private special schools, institutions, health departments and hospitals in Republic of Macedonia and all over the world have the right to publish. The aim of the journal is to share and disseminate knowledge between all disciplines that work in the field of special education and rehabilitation. All articles will be critically reviewed within 2 months, but longer delayes are sometimes unavoidable. All manuscripts must comply with Authors Instructions.
Institute of Special Education and Rehabilitation, Faculty of Philosophy
Blvd. Goce Delchev 9A, 1000 Skopje, Republic of Macedonia
Tel.:+389-2-3148-834
EDITORIAL OFFICE PREFACE

Dear readers,

One month before the celebration of the 20th anniversary of the Institute of Special Education and Rehabilitation the colleagues rapidly implement the last preparations. As it was already mentioned in the previous edition, the International Conference will be held in the hotel Metropol in Ohrid from 17th to 19th October, 2013. Presence of around 150 guests from the region is expected, as well as the presence of invited lecturers from England. This is another good opportunity to invite You to take part in the Conference and thus, to enrich Your knowledge with modern aspects of special education and rehabilitation. A book of abstracts and a Book of papers are expected to be printed after the Conference, which unfortunately will not be under our special edition, due to the conceptual differences with most of the colleagues from the Institute.
Meanwhile, the magazine reinforces its scientometric parameters. For example, we have recently received a value for universal impact factor (UIF 2012 = 1.0985), and the value for h5 index and h5 median for 2013 is 2. It is my obligation to point out that the universal impact factor does not refer to the famous impact factor which is awarded by the Thompson Reuters Company.
What is new in this edition? It is encouraging to know that the number of new authors who publish papers for the first time in this magazine is increased. The authors Kitkanj and Georgieva talk about behavioral disorders in adolescents with mild intellectual disability. In the first section, the authors from Croatia introduce a topic about the parent's satisfaction with the early measures of care of children with intellectual disability. Reichenberg and Lovegren from Sweden write about the social practice of reading and writing teaching in schools with students with intellectual disability. The Italian authors, in the section psychological pedagogical review, introduce a provocative topic: What do we know about 'the attachment disorders"? Our colleagues Rajovic and Jovanovic elaborate the barriers of inclusive education, giving a review of the attitudes of the Serbian teachers towards the inclusive education in the past ten years. One more paper about the integration and inclusion in the Israeli education system is given in the section dedicated to practitioners. In the last section, world news, the authors analyze the Usher syndrome of the educational environment in India.
In the standard rubric News and information we encounter useful information about the tribune held at the Faculty of Philosophy in Skopje on the occasion of the World Day of persons with Down Syndrome, to mark the World Day of persons with Autism, as well as to give precise information for the upcoming international conference which will be held in Ohrid. In this edition there is also a paper of a defended master thesis on The quality of the relationship between siblings in families with an autistic child and an abstract from a defended a doctoral dissertation on the Assessment of the independence in performing everyday activities and the need for occupational therapy in persons with multiplex sclerosis. As in previous editions, the regular rubrics: Bibliography, List of reviewers and Author index are also present.
Participation in congresses and publication of scientific papers is an obligation and a duty of every researcher.

Yours sincerely,
Editor-in-Chief
Prof. Dr. Vladimir Trajkovski


Beneficiary's Bank:
National Bank of the Republic
of Macedonia, Skopje, Republic of Macedonia.
Giro account: 160010422778818
Tax number: 4080009100138
Publisher: Institute of Special Education and Rehabilitation, Skopje, Republic of Macedonia.
Electronic submission
Manuscripts should be submitted electronically using the Article submission form which will be accessible after registration and logging on with your JSER username and password. Registrations are open and activated automatically.
Call for Papers

Respected readers,
We want to announce you that we are preparing ourselves for next number 1-2 of Journal of Special Education and Rehabilitation 2014. You are kindly invited to submit an article in our Journal. The articles are bilingual (Macedonian and English). Authors abroad former YU countries can submit only in English. Please type them in Word 2003 version, or up. Please use Times New Roman font with Font size 12. The manuscript can not exceed 30.000 characters with no spaces A4 format on English including Abstract in English. The margins should be 2 cm from every side, and also paragraph should be 1.5 lines. JSER is indexed in 83 data bases
Abu Dhabi University Library, Academic Journals Database, All India Institute of Speech and Hearing Library and Information Centre, Biblioteka Uniwersytecka we Wroclawiu, Bibliothekssystem Universität Hamburg, Bielefeld Academic Search Engine (BASE), Catalyst Libraries Johns Hopkins University, ChengChi University Libraries, Chinese Directory of Open Access, Chung Yuan Christian University Library, DOAJ, EBSCO, Educational Research Abstracts Online, Electronic Resources HKU Libraries, Elektronische Zeitschriftenbibliothek, ETBU, Falvey Memorial Library Villanova University, Feng Chia University Library Subject Directory, Fraser Health Library Services, Genamics JournalSeek, Geneva Foundation for Medical Education and Research, GESIS SocioGuide, Glasgow University Library, Google Scholar, Health Sciences Library, HighBeam Research, HINARI, Imperial College London, Index Copernicus, JournalTOCs, Kitasato Memorial Medical Library, Krisha Kanta Handiqui State Open University, Kun Shan University Library, LibSearch, Madonna University Library, National Ilan University Library, New Electronic Journals, New Jour, Nova Southeastern University Libraries, OHSU Library, Open J Gate, Open University Library, Ovid LinkSolver, ourGlocal, Proquest, Questia Trusted Online Research, Samtse College of Education, Royal University of Buthan Samtse, Colledge of Education, Scientific Commons, Scirus, Scopus, Shendusou, SOCOLAR, Staats - und Universitatsbibliothek Bremen, University Library in Bratislava, University of Antwerp Library, University of Connecticut Libraries, University of Groningen Library, University of Glasgow Library, University of Hong Kong Libraries, University of Nevada Libraries, University of New South Wales Library, University of South Australia Library, University of Washington Libraries, Versita Open, Victoria University of Wellington Library, WANGFANG DATA, Warner Memorial Library of Eastern University, Wissenschaftszentrum Berlin für Sozialforschung, WorldCat, WorldWideScience.gov, York University Libraries
You can send the articles in one printed version, and electronically (Floppy A, or CD) on the following address:
---
Read more...